Today it's hard to get our kids to exercise or be more active because we ourselves don't have the time to do it with them. With our busy lives and schedules we wait for the weekend to do some fun activities or go to the park. With the LeapFrog LeapBand it doesn't have to be like that. Your kids can learn to be active at home or on the go by using their own bodies and having fun doing it. LeapBand is the best kid's fitness tracker available today that is affordable, easy to use and kids utilize. With so many fitness trackers available in the stores, choosing the best and top fitness trackers in India is a time consuming task.
There are no other fitness trackers available for kids that engage the child and their muscles. The reason why LeapBand is the best fitness tracker for kids include:
Fun Challenges-The LeapBand uses fun challenges to help the child move and be more active. These challenges can be anything from jumping like a frog to hoping to something yellow. Kids will learn to be more creative and visual.
Learn Time- LeapBand activity tracker will not only have your youngsters jumping, wiggling, making noise and being active, it also teaches them time. The LeapBand can say; "Yawn, it's 9:30pm you must be sleepy!" and other fun time facts. This will help the child start grasping time difference and numbers.
Earn Points- With every LeapBand activity that your child completes, they will earn a point. These point will add up and can be used for their virtual pet game and accessories.
Play Games- LeapBand might be small and lightweight but it also allows your children to have their own virtual pet and nurture them. There are eight different pets they can choose from, choose a color and give the pet a name. With the points your child earns by completing various activities, they can use those points to play games and get accessories for their pet.
Learn Healthy Habits- While the LeapBand does have a virtual pet game it encourages healthy eating habits and educates your child on fruits and vegetables. Their virtual pets need to collect healthy food and make healthy snacks.
Parent Control- The parent has the control over when the child can do the activities and can put the LeapBand on school/mute mode when the child is in school.
Preloaded with Activities- LeapFrog LeapBand comes with 10 fun activity challenges and four cool-down activities. The parents can add up to 36 other challenges through LeapFrog Connect.
These are just some of the reasons why the LeapBand is the best kid's fitness tracker. With rechargeable batteries and easy to use features, having active kids has never been easier.
X-Doria KidFit Activity Sleep Tracker for Kids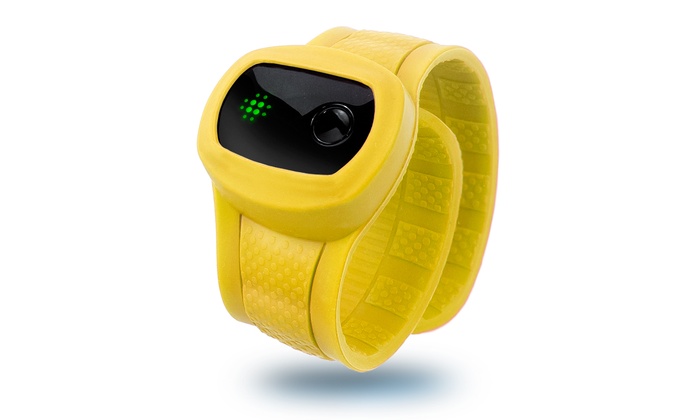 X-Doria announces KidFit, a wearable remote activity and slumber tracker made specifically for kids ages 5-13. KidFit makes tweaked every day activity focuses for children and presents them in a straightforward objective of 100 focuses. The KidFit application gives opportune criticism on advancement by means of brilliantly hued "Results Cards" and urges children to achieve their every day targets. Implicit objectives make continuous difficulties and engagement to the tyke's wellbeing objectives.
With a simple and natural interface, Bluetooth 4.0 innovation and a clear one-catch outline, setup is as simple as downloading the KidFit application, pressing one catch on the KidFit wristband and noting a couple of straightforward inquiries. KidFit will naturally set day by day activity and slumber objectives for a brisk begin.
Folks looking to further refine their youngster's KidFit objectives can alter dynamic time and slumber objectives, amongst different settings whenever. KidFit is housed in a bright, "slap-band" style wristband that gives a ceaselessly flexible, secure fit. With an IPX3 water safe rating and rechargeable battery fit for up to seven days of checking, KidFit is a genuine every minute of every day activity screen.
As opposed to simply numbering steps or calories, KidFit persuades a conduct change in kids by making activities into an amusement, and empowering any manifestation of activity to meet day by day objectives. Implicit difficulties based on key measures of wellbeing, energize proceeded with engagement for both the short and long haul.
Objectives concentrate on key measurements, for example, hitting your day by day target score, sufficiently getting rest and separation voyaged, so youngsters are compensated when objectives are met. Folks likewise can make custom objectives fixing to certifiable prizes for additional inspiration.
Folks are urged to spend a couple of minutes toward the end of every day to synchronize information and examine results with their youngster. KidFit can be matched up to a guardian's or kid's iPod, iPad, iPhone or comparative Android gadget. Adjusted outlines show accomplished objectives and an aggregate score that incorporates three parts: downright KidFit score, slumber time, and advancement to objectives. Clients can view progress initially in a straightforward rundown or advance after some time in vivified charts.
Despite the fact that some may not precisely like the thought, there's presently even a wellness tracker intended for children. X-Doria is normally known for its astounding iOS gadget cases for both the iPhone and iPad. In any case the organization is spreading out with the new KidFit. Intended for youngsters 5 to 13, the gadget tracks both activity and nature of slumber. With an one-size-fits-all outline, the tracker resembles a slap arm jewelery and is water safe.
The gadget itself doesn't contain any kind of screen, so folks will need to utilize the free friendly application. Rather than essentially numbering steps, X-Doria says the tracker helps change kids conduct by making activities into an amusement to energize short- and long haul objectives.
I truly like the X-Doria KidFit Sleep Trackers. It's an essential tracker for youngsters and its truly all they'll ever require at their young age. The gadget is extremely tough and I cherish that it uses a slap band rather than a customary style watch strap. It makes it much simpler for them to get it on and off all alone and estimating no more turns into an issue as the slap band sizes itself. The hues you can get it in additionally makes the KidFit very jazzy and fun so kids wouldn't fret wearing it.
I'm not by any means excessively beyond any doubt how precise the step counter is or the separation voyaged is, yet I don't generally mind. All I think about is the way that my child is very roused to get outside and do things. He likewise wears it to class day by day and its a pleasant method for following how dynamic he is the point at which he's there.
Generally speaking, I'm extremely awed with the X-Doria KidFit Sleep Trackers. It's modest, sturdy, and a decent approach to propel your youngsters. Folks can likewise make custom objectives fixing to genuine prizes. Adjusting to an iOS gadget is finished with Bluetooth 4.0 innovation, and the implicit battery can try for up to seven days of following before expecting to be revived. KidFit will be ship on Friday, August 15. Purchasers can choose from a dark, water, hot pink, yellow, or red gadget.
While it will retail for $49.99, the initial 1,000 preorders will get an additional $10 off that cost. Would you buy a KidFit for your kid? Despite the fact that activity trackers are extremely popular with grown-ups, I simply don't know if I would be agreeable with my children utilizing something like this. However I know many who would effortlessly can't help contradicting me.